Skip to Content
Hotel Azure
a tapestry

of Wonder Awaits

Perched on the edge of Lake Tahoe's gallery of natural hues, Hotel Azure offers front-row access to the adrenaline-fueled thrills and serene moments of solitude tucked within the formidable landscape. Stay to play among towering pines, ply crystal-clear waters, and leave tracks across freshly fallen snow. Or simply relax, soaking in the majestic views from our hot tub. A getaway never looked better.
Three Reasons to Book Direct
Best Rate Guarantee
Flexible Check–in
Free Wi-Fi Throughout Hotel
A Truly Epic Setting
Our privileged location puts you steps from Lake Tahoe's southern shores, some of its best beaches, and its myriad activities. Oh, and we're also really close to great restaurants, Heavenly Ski Resort, and the casinos just across the border in Nevada.
Activities All Year Round
Plan a vacation to the lake or find the perfect time to hit the slopes knowing that Hotel Azure's Tahoe Bowl offers 16 bowling lanes right next to our hotel and our heated pools and hot tub are available year-round.
Our Pet-Friendly Vibe
We're proud to be one of the only dog-friendly hotels in South Lake Tahoe. In fact, we love having your pets stay with us so you can explore the great outdoors with your four-legged best friend by your side.
Standout Service
It's clear that Lake Tahoe's scenic landscape will make a lasting imprint, and so will the exceptional care and attention our team offers. Our experienced staff takes great pride in providing superior service, and it shows.
Cerulean
dreams
Take in the scenery from casually sophisticated guest rooms and suites where you can plan your next thrilling adventure. With a naturally inspired modern aesthetic, plush bedding, a private balcony, and an array of thoughtful amenities, you'll have everything you need for a relaxing stay — whether you need to refresh after a day outdoors or just want to bask in the alpenglow sunsets.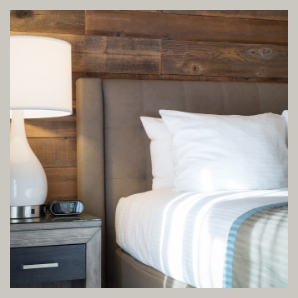 South Tahoe's Indoor
fun center

Spend the day at our hotel's unique amenity: Tahoe Bowl. Our retro-style bowling alley features 16 lanes with automatic scoring systems and bumpers for the kids, an arcade, specialty lighting — and a fantastic HAPPY HOUR! When your crowd gets hungry, make a beeline for the onsite pizzeria or Lane 17 Sports Bar.
Sweet Savings
Make Yourself
at home
Get more out of your getaway! The longer you stay, the more you save. Get 10% off our best available rate when you stay 3–4 nights, and save 20% when you stay five nights or more.
The Secret
is out
Bucket List Vacay
"I searched for weeks and I am so very glad I picked here. We requested a room ON LAKE TAHOE and couldn't be happier with our choice. We had our own balcony overlooking the magnificent Lake Tahoe. No problems with any of our stay. The welcoming people in the office were very helpful and so friendly. There are 99 rooms in this little resort and it is a great place to stay."
-P5652RRkareng | TripAdvisor
The Secret
is out
Location and Views Second to None
"The staff at Hotel Azure did everything possible to make our stay enjoyable and comfortable. Thank you! The location and views of the lake are second to none. We will definitely return to this hotel on our next visit to South Lake Tahoe. "
-dfuest | TripAdvisor
The Secret
is out
Great hotel with a beautiful view!
"We stayed here for 2 nights in July. We booked a 2 queen room with a lake view. Our room was right across the street from the lake. We could sit on the balcony and enjoy the lake and the people coming and going. There was a great view of the fireworks from there. "
-CJW | TripAdvisor